Terminating One
Production information
Manufacturer
Product line
Model

Sovereign-class Star Dreadnought

Class
Technical specifications
Length

20,000 meters

Hyperdrive rating

Class 2.5

Armament
Complement

300 TIE/D Fighters
250 TIE Fighters
250 TIE Interceptors
150 TIE Bombers
100 TIE Avengers

Crew

605,745

Usage
Role(s)
Era(s)
Affiliation

The Terminating One Super Star Destroyer, flagship of Grand General Grahner Pol
Chapter 1: Birth
Edit
Created on the mysterious world of Byss, Terminating One or simply T-1 was created like any other capital ship. Although 5 km larger than the original designs intended for it, it makes up for in it's extreme firepower and versatility. The original designs boasted a superlaser weapon based on the Death Star, but under GA command it was stripped to make room for Grahner's vast ground forces and a less powerful weapon capable of knocking out star cruisers but with a long cool-down time. Since the ship is larger than most, it is not yet at 100% completion.
Chapter 2: Military Power
Edit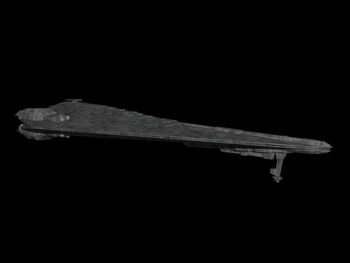 Terminating One's destructive power was backed by the almost infinite armada of mechanized assault vehicles ranging from 200 AT-ATs (including Grahner's personal one), 400 AT-STs, 200 AT-PTs, 150 AT-RTs, 50 TIE Tanks, 80 Saber-class Tanks, 20 Sentinel-class shuttles/dropships, and Grahner's modified private Lambda-class shuttle.